Infinity Dance Theater has a strong tradition of bringing meaningful educational experiences to young people and adults around the world. The ensemble's professional excellence teaches everyone that disabled and non-disabled individuals are far more similar than they are different from each other, and that disability does not signal inability nor does it diminish talent.

Teacher Training
Infinity is often contacted by young people with disabilities interested in studying dance, but they find that most doors are closed to their pursuit of this goal. For this reason, Kitty Lunn has designed a training program that gives educators hands-on, step-by-step instruction in the transposition technique she has developed for dancers with disabilities. This program teaches dance educators how to transpose the same ballet, modern, or jazz dance technique they are already teaching, thus encouraging the inclusion of students using wheelchairs into regular dance classes and performances.

Dance teachers begin to understand key similarities and differences between dancers with and without disabilities. Through first-hand use of wheelchairs designed for dance, they learn basic wheeling, partnering, and choreographic technique in the context of ballet and the modern dance styles of Graham, Horton, Taylor, and Muller.

Over the past year, teacher training workshops have been held in collaboration with:
New York State Council on the Arts, New York University, National Dance Education Organization, and Northern Westchester Center for the Arts in the New York City metro area;

National Dance Education Organization in the Washington, D.C. area; and

Crotched Mountain School of New Hampshire.
Lecture Demonstrations
Kitty Lunn and other members of Infinity's ensemble illustrate the principles of transposing ballet and modern dance techniques and demonstrate how dancers with and without disabilities can work together in a mainstream class or performance. Lecture demonstrations reach students with and without disabilities, dance and special educators, and general audiences of all ages. The content is customized depending on the specific needs of the participants and host organization. Kitty Lunn shares her own inspiring personal experiences as part of the session.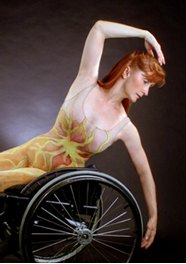 Photo: Dan Demetriad
Programs for Young People
Infinity presents programs customized to each school's needs and grade levels. Program options include teacher training sessions, a program on diversity and inclusion hosted by Kitty Lunn, or a lecture demonstration for any number of students. Some schools have chosen to add even more depth to the experience by arranging a series of visits by Infinity as part of a long-term initiative.
Keynote Addresses
Kitty Lunn delivers inspiring and informative addresses well-suited for special occasions such as galas, corporate events, and community programs - ranging in size from an exclusive private gathering to a large venue seating thousands.

To learn about booking Infinity, please contact Chris Frerichs at (917) 204-8294 or by email at: chris@infinitydance.com.